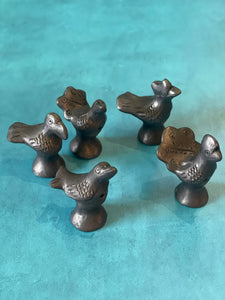 Black Pottery Bird Whistle
Our bird whistles are made in a workshop that is called Dona Rosa Alfareia. They get the clay from a mine called Cerro Del Coyote. Once created, they put the piece in an underground kiln for 10 hours. Then they create the shine, they use water and quartz to polish each by hand. The friction between water and quartz creates a finish. The smoke and heat turn the clay black naturally. This is specific to the area and the kiln process. No two exactly alike. Let us pick for you. You blow from the base of the bird. 
2" x 2 " They each are a little different in size.
---
We Also Recommend