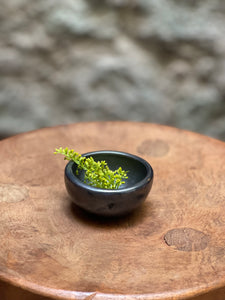 Oaxacan Round Black Pottery Bowl
Produced in San Bartolo Coyotepec and designed by Serena Simón Lopez. The black color comes from the oxygen reduction process in the kiln and the content of minerals within the clay. It is a 10 day process for the bowl to complete. To create the shine, they use water and quartz to polish each piece by hand. The friction between the water and quartz creates the finish. 
2 1/2"W x 1 1/2"H  
They are all made by hand so size is average. 
Food Safe
---
We Also Recommend